Entrepreneur education in Australian schools is critical to our future success. We will continue to face complex challenges in an increasingly competitive global environment. Central to an entrepreneurial approach is the ability to clearly identify challenges and take personal ownership along with the risks and rewards from addressing those challenges.
Introducing entrepreneur education early means future generations might consider an entrepreneurial approach not as a new way of thinking but as an accepted way of being.
But changing the system to better introduce entrepreneur education is a complex challenge. The curriculum is well established and resistant to change. Education policies can vary between regions and states. Teachers require new skills and capabilities to pass on to young people. There can be a focus on new technologies at the expense of ways to apply those technologies to practical challenges.
The use of external entrepreneur education programs in the form of hackathons, workshops, or accelerators by third-party providers can supplement the curriculum, but come at a higher cost and inconsistent quality between programs and regions. Program uptake can also depend on having a passionate advocate to champion the program in the schools. This can disadvantage entire regions and demographics who do not have access through geography, funding, or individual capability.
We are also trying to change a system that can be seen at its core as contrary to an entrepreneurial approach. Entrepreneur education introduces the concept of trial and error and accepting failure as learning to a school system designed in terms of A's and F's and failure as the ultimate defeat to be avoided at all cost.
Like most complex challenges, no single individual, organisation, or institution can address the problem alone. Change will require many people leading from multiple perspectives. A difference comes when many who have the passion and capability stand up and lead where they are. These leaders who raise their hand can then show others how it is done. This in turn builds capability and influence to create more leaders and advance the cause.
These are some of the reflections following a webinar we ran a few weeks back that focused on entrepreneur education in Australia's high schools. Following the event, we sent a survey to the 170 people who registered asking their views on the challenges and where they saw potential to lead.
The survey is live and you can add your own views here: https://forms.gle/n6N1egYf75uYV7W46
Many thanks to Frederic Fery and Jason Lowe for support in visualising the survey results in tableau. Their ability to tell stories through data is much appreciated.
The chart below highlights responses to the survey across 15 opportunities for leadership related entrepreneur education. This list is not definitive, but provides a few areas where leaders have identified opportunities for systemic change in entrepreneur education.
The opportunities
Integrating STEAM and Entrepreneur Education in both primary and high schools
The STEAM skills of today can be like learning MS-DOS of decades past. Equipping young people in emerging technologies is critical and needs to be improved. Australia is slipping in absolute scores and global rankings in terms of student proficiency scores, according to the latest OECD Programme for International Student Assessment (PISA) report.
Connecting the technical skills to entrepreneurial education is essential. Of those who responded to the survey, there were more participating in STEAM education in both primary and secondary school than those participating in entrepreneur education. But the need for entrepreneur education is seen as important, with a greater number or respondents desiring to advance the topic of entrepreneur education, particularly in high schools.
Leaders in this area can answer questions such as: How do we best integrate STEAM programs with entrepreneurial education? What is the best approach to applying technical skills for meaningful challenges and opportunities?
Interventions in curriculum, outside curriculum and on-campus, and outside curriculum and off campus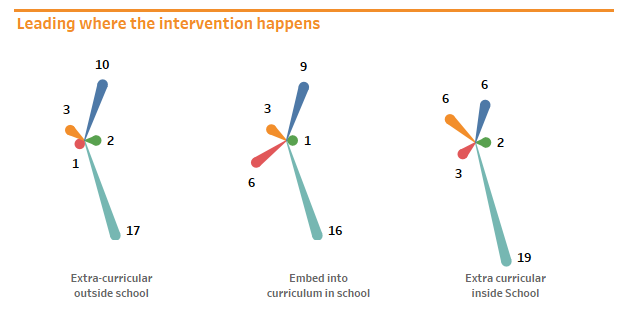 The full curriculum schedule can make any new program a challenge. Teachers already have a lot on their plate and the addition of any new program or content can be a difficult ask. Getting a program embedded into the curriculum can seem like attaining the holy grail.
Yet introducing an extra-curricular program into schools after hours can be costly, vary in quality, and still require an internal champion. Extra-curricular programs outside of school can be good as a light touch but also feel as through it has limited impact embedding into the young person's daily life.
More respondents currently participate in embedding curriculum in school, while a greater number currently lead in extra curricular insight the school,and there is a greater interest for those looking at extra curricular outside the school. All three approaches rated high as a desire to advance the topic, led by extra curricular inside the school.
Entrepreneurship education access for female and indigenous young people and youth in regional areas
Entrepreneur education remains a specialist and emerging focus. This means it is not experienced equally be everyone. There are already differences in education results for females, indigenous, and regional young people according to the previously mentioned OECD Programme for International Student Assessment (PISA) report. The systemic challenges that contribute to these differences would be expected to carry over into entrepreneurship education.
Entrepreneurship education in each of these areas – female, indigenous, and regional – require a unique perspective in an already specialist field. The argument can also be made that embedding entrepreneurial thinking into emerging generations with first-hand experience are best suited as future leaders addressing generational challenges.
Programs structured as accelerators, award programs, and business simulations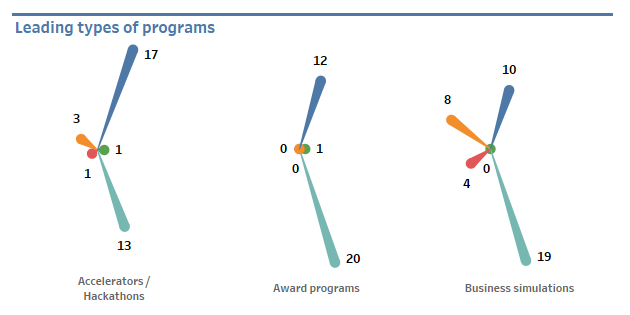 Entrepreneur education can take many forms. Accelerator and hackathon programs support young people to develop ideas and build businesses within a timeframe ranging from an afternoon or weekend to multiple school terms. Award programs bring young people together from across a school or multiple regions and highlight to their peers what success might look like. Business simulation programs often give the young person a business to run and occasionally provide small amounts of funding to learn basic management skills.
Among the survey respondents, there was the most interest in accelerators and hackathons, there was the most current leadership and participation in business simulations, and slightly more desire to advance the topic of awards.
The need to build capability in teachers and impact the mindsets of young people across the curriculum
There is also a need to build capability and capacity in teachers to support entrepreneurial education as well as focus on mindset shifts in young people. Teachers who graduated their own schools over a decade ago are having to learn new skills along with the young people they are teaching to keep up with the rapid pace of change. For young people, an entrepreneurial mindset can be embedded across all classes, not just a dedicated program.
Both of these areas have significant participation and interest in advancing the topic, and also fewer active leaders from those who responded to the survey.
Next steps, where do you want to lead?
This survey is not a reflection on the total population of Australia. The sample size was too small for that. What it does show is that there are a number of people who have expressed interest, capability, and capacity to lead across multiple areas. These people come from many roles in the community, including primary schools, secondary schools, local, state and federal government agencies, community groups, service providers, peak bodies and industry groups, universities, tafes, and other entrepreneur support services.
The survey is also not the definitive list of challenges. It is a start to have the conversation and focus attention.
The aim of the survey is to see who is involved in and interested in contributing towards immediate and long-term change. There only needs to be a few leaders to raise their hand to begin making a difference. We have achieved this already.
This survey is part of a wider initiative to address systemic challenges in the Australian innovation ecosystem. It is also complemented by a current mapping process of the Australian entrepreneur education ecosystem.
For those who are interested in advancing the topic of entrepreneur education for young people in Australia, there will be a follow-on conversation in June 2020 to practically advance these areas over the next 12 months. If you are interested, please complete the survey here: https://forms.gle/n6N1egYf75uYV7W46 and you will be sent an email with the date and time.
Over the past 10 weeks we have been bringing together leaders in the Australian innovation community through weekly webinars and a dedicated slack channel, now over 800 members. (DM me if you would like an invite to contribute to the conversation).
We are now advancing priority areas based on feedback from the community. This involves bringing diverse leaders together to focus their collective efforts on addressing systemic challenges that no single organisation can address. Entrepreneur education for young people is one of these priority areas.
As always, feedback, questions, and conversations are welcome. Please feel free to comment below, share, or reach out to me via DM. You may also be interested in our next webinar this Thursday focusing specifically on diversity in entrepreneur education.
Our aim is to facilitate and convene, bringing together those already leading, and advancing their efforts. If you are involved in supporting future generations to develop the skills and mindsets to make a positive difference in the future, thank you. We look forward to supporting your work and helping to advance the cause.