We are in our second week of asking daily perspectives of leaders in the Australian Innovation Community slack channel. The community has over 600 members, has resulted in over 1,900 interactions, and over 130 members interact each day.
We started the daily poll last week, focusing on: Understanding government COVID-19 business support; Work from home impacts on productivity; and Personal impacts from COVID019. The questions are inspired by the news of the day and other conversations that are prominent in the community. The intent behind the polls is to:
normalise views among leaders,
help leaders understand what innovators and entrepreneurs they support may be experiencing, and
raise awareness and capability through follow-on conversations.
The sample of the survey needs to be considered, as it is leaders who choose to participate in an online slack channel designed for leaders in the Australian Innovation Community. It is not necessarily representative of all leaders or the general population. Still, the numbers are sufficient to be reflective of what a sample of the population feels about a certain topic.
We provide weekly recaps here to expand the conversation and gain further insights with the wider community.
Monday: Media sources for COVID-19 impacts
As a leader in Australia's innovation system, what media sources are you relying on during the recent COVID-19 impacts to keep up to date on information specific to your work?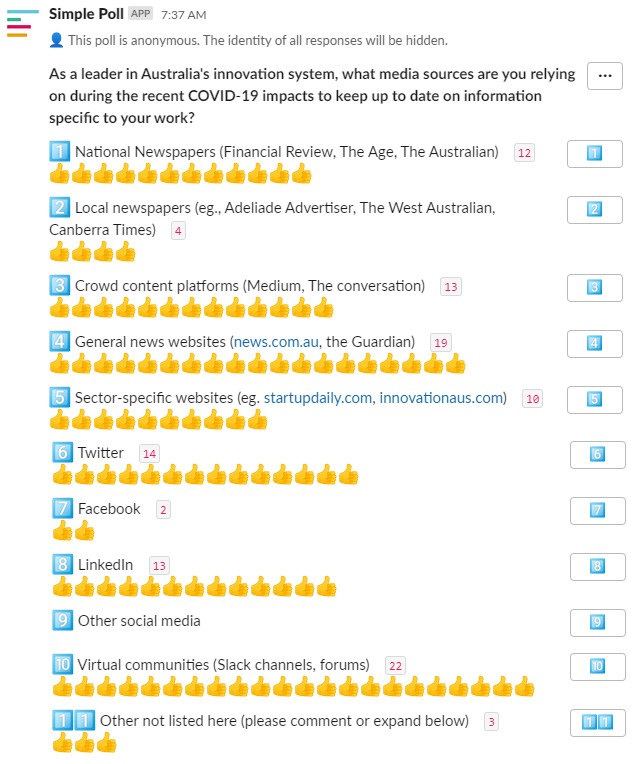 This question came about from a story posted in the Slack channel for #media following reports of the closure of some country newspapers by News Corp, and another story about the paper in Mildura continuing on regardless. This prompted a question about what sources people are using for COVID-19 updates.
I know for me personally I have a few regular sources of the Australian Financial Review for broad economic impact. Twitter and LinkedIn are good for crowdsource information and immediate commentary. I find the various Slack communities have become a great resource for direct engagement with news sources.
The responses in the poll highlighted the dominant role that Slack communities and forums have played in curating and sharing information, albeit biased towards those who are already engaged in the platform. General news sites play a role, followed by crowd content platforms and national newspapers. Twitter and Linkedin were the two main social media sites, trailed far behind by Facebook. Local newspapers continue to play a role for some.
The poll prompted good conversation about other sources as well, noting that sources such as sources outside Australia and newsletters from industry such as VCs needed to be included as options.
Tuesday: Time spent on COVID-19 in response versus recovery
As you think ahead to the rest of this week, how much of your time do you expect to spend focusing on COVID-19, both the immediate impacts as well as adjusting to the longer-term conditions?
There has been much discussion in webinars and the slack community about immediate response and preparing for the future. There was also a request in the community to open a new channel for future-focused conversations. This had me thinking about how much time leaders are spending on immediate reaction to the impacts, planning for the future as a result of the impacts, or getting on with business as usual.
We saw a fairly even spread in the two-part question. In terms of immediate response, over half of leaders are spending between 26% to 75% of their time on COVID-19 impacts. By comparison for future planning, 58% are spending less than 25% of their time on COVID-19 impacts.
This raises another interesting point as to the real cost of the virus. Each hour spent on addressing immediate impacts of COVID-19 that does not result in revenue is a cost. Adding up the hours by the hourly rate of leaders focused on response would significantly increase the assessment of total impact from the virus.
We can expect the focus to shift to more future thinking as the weeks continue, as leaders spend more time on future recovery and resilience activities versus immediate response. We may also see a decrease in time spent specific to COVID-19 overall as we settle into the new normal.
Wednesday: Self-reflection on the daily poll
What are your views about the daily updates and the poll?
Wednesday marked a week of daily polls and we were keen to test the value to the community. There is no end to topics to consider based on the morning's news cycle and community conversation, and we want to ensure others think the same and test the hypothesis.
After I posted the poll, I thought that perhaps 5 responses in the first couple hours was a response in itself. I then realised it was 5:00 in the morning and I needed to be patient.
People are using the Slack community in different ways. Some use it similar to me as a morning check in and update. Others graze through the day. Still others are checking in once or twice a week to catch up and interact. We see this in responses to the daily polls, as people contribute from the time they are posted and on throughout the week. The aim is to be a flexible resource that suits a wide range of how people work.
The majority of responses were favorable, with a couple of people thinking they should change. Members can also adjust their notifications or leave channels they are not interested but still check in when convenient to them.
Thursday: Physical fitness during distancing
Realistically, what is your approach to physical fitness going to be over the next four weeks?
There was an article in the Financial review Thursday morning about fitness and the Chris Hemsworth app, where you can get you close to Thor-ready in 3 months. Kettle bells are apparently the new toilet paper as people purchase workout equipment to stay fit in isolation. I noticed a few Twitter and Insta snaps of people's home-gym setups, and wonder if in six months we will be ripped like an Avenger or if there will be a new market for used fitness gear.
I know from my personal experience over the past several months, personal discipline is critical for fitness when working from home. There is not a lot of cardio happening in frequent trips from the desk to the fridge and bending down to the freezer to get ice does not count as squats.
Most of the leaders felt they would either keep the same fitness or slight increase. Around a third believed their physical fitness levels would become slightly or significantly lower.
Perhaps this creates opportunities for accountability groups in isolation. There may be opportunities for communities to form to support personal physical fitness outcomes as we work to support others in achieving business outcomes.
Invitation and thoughts on what's next
The daily polls are valuable to get a sense of views on daily news, community conversations, and community initiatives. We share here to expand the conversation and be transparent so others can both input and learn to apply what may work in their communities – real or virtual.
If you identify as a leader in the Australian Innovation Community and you would like to join the Slack community, please drop me a comment below or send me a DM. Our aim is to create a virtual space for leaders to engage, more rapidly connect and get support, and have conversations around relevant content.
We will continue with the daily polls based on the feedback and look forward to providing insights to the leaders that are doing incredible work across Australia. As always, feedback and comments welcome as we work together to support Australian innovation and entrepreneurship.