Global Entrepreneurship Week is a 10-day campaign where countries around the world focus on events related to entrepreneurial activity.
The event leads to a few questions: What is the impact of GEW? How many entrepreneur-related events are run across Australia? What is their focus?
For 2019, we shared about our aim to create an initial proof of concept tool to find out how many events are run across Australia at any given time. This is to provide a planning resource for those who manage events locally and to prepare for GEW 2020.
This is a work in progress. There are likely significant omissions and it will be refined moving forward. The aim is to get something out, as an early release with known omissions is better than no release at all.
First, a brief review of entrepreneur support in Australia
There is a lot happening for entrepreneur support in Australia. In 2015, the federal government released their $1.1 billion National Innovation and Science Agenda. There are many reviews, audits, critiques, and opinions on the effectiveness and longevity of the program. It did, however, raise awareness for entrepreneurial activity across the nation. State and local activity remains strong and national discussions remain on individual policies such as R&D tax incentives and talent visas.
The list below is not a comprehensive review for comparison, but provides an indication of types of state-based entrepreneur support efforts. Some states have an overall innovation support program such as Advance Queensland, while others include entrepreneur support as part of their total economic development portfolio such as the Northern Territory Local Jobs Fund. At local levels, there is additional support sponsoring business award programs, local innovation hubs, and entrepreneur education programs.
Some state examples of activity include:
This is just an example of government involvement, as the market both responds and leads resulting in a rapid growth in Australian entrepreneur support from universities, corporations, and private operators. We maintain a map of entrepreneur support actors in the system and while any directory has a degree of inaccuracy, current count shows:
134 innovation hubs,
362 coworking spaces,
57 connection and virtual hubs,
45 event or pitch award programs,
150 incubators or accelerators,
16 regular hackathon programs,
40 maker spaces / hackerspaces,
174 investment groups,
228 university campuses,
36 school or steam programs, and
numerous other peak bodies, economic development bodies, chamber of commerces, connection groups, education organisations, and local government departments supporting entrepreneurs.
The take-away is that at any given time there is something happening to support entrepreneurs across the nation. If a campaign such as GEW increases the quantity and quality of events, it is a good idea to understand our baseline and the difference we aim to make.
Methodology
We set out with one primary question: How many entrepreneur-related events are run in Australia over a given time period? Secondary questions relate to where those events are held and the nature of the event such as the topic and their target audience.
We followed a few principles, including:
Use existing data where possible;
Make it sustainable;
Build something that can be used in the future;
Minimise asking for additional effort by those in the ecosystem; and
Avoid self-promotion if it does not add direct value
Promotion
GEW promotion in Australia happens in specific areas across the nation, but promotion of the national brand was limited in 2019. Startup Huddle in Mandurah was a great example of how the brand can be used to activate over a dozen events in their local community and SPARK Deakon leveraged GEW to focus their efforts on a series of events including a local hackathon.
There was not a large push in 2019 to get event organisers to register events with GEW due to timing leading up to the event. For 2019, we focused on capturing what events are happening to understand current state and develop tools to better support local communities for 2020.
More events are a good thing
When assessing impact, we begin with the basic assumption that events are good, and that more events and better quality events are helpful. Countless new business ideas have been created by random people bumping into each other around shared interest. Events educate, inspire, connect, raise awareness, and build community and culture. More events equal more of these outcomes.
Yes, events need to be supported by action. Attending events can be an intentional distraction from getting stuff done. There can also be a feeling of event saturation.
The answer is not to decrease the number of events, but to to increase execution in the ecosystem, improve coordination, ensure there are events to support all stages of entrepreneurial growth, and continuously improve the quality of events to expand the audience.
Tracking events is a challenge
Keeping track of events is a challenge. Brisbane, Sydney, and Melbourne all have portals that aggregate events and StartupAUS has a list of national conferences, but there will always be gaps and limited national alignment.
When I managed an innovation hub in 2017, I maintained a spreadsheet of all related meetups, hubs, and other programs in the region and would audit these each week to avoid cross-over. This was productive but time-consuming and not sustainable or scalable as a manual process.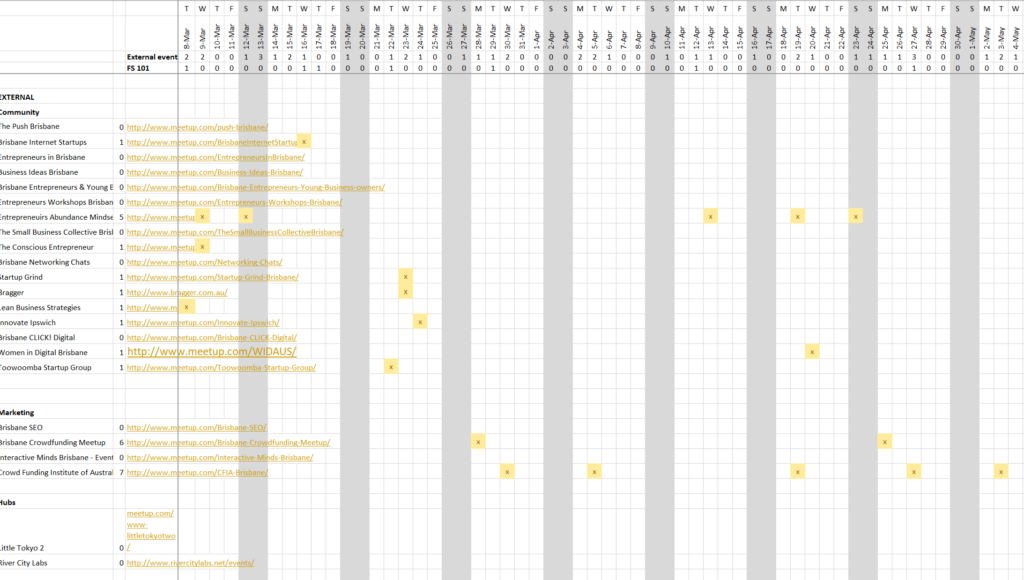 Fast forward to 2019 and I ask how we can provide a similar function to entrepreneur event organisers across Australia.
Platform integration for a single view
As mentioned, we already have a list of actors in the ecosystem, which for a general term we will call "hubs". These hubs can be connected to corresponding organisations and venues in events platforms. We started with the two most popular platforms: Eventbrite and Meetup.
We have released a public view into the basic calendar here: https://your.startupstatus.co/events/. You can search events by state, city, and free text search. This is very crude and the user interface is a work in progress. City data needs to be cleaned, as it is a raw pull from event platform data which is very messy.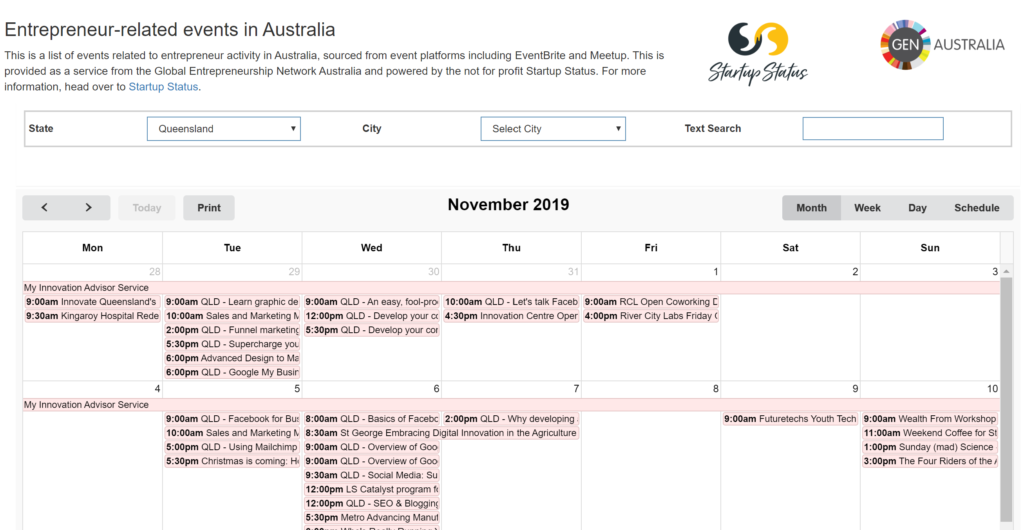 The process includes both connecting event organisers to entrepreneur support organisations, as well as keyword search for terms including 'innovation', 'entrepreneur', 'startup', etc. Each event platform behaves differently and APIs change regularly. Integration with other platforms is in progress, including Facebook, Humanitix, and Sticky Tickets.
Defining the boundaries
The boundaries of what to include is fluid and innovation happens at the cross-section of unrelated concepts. There are some challenges that come up when pulling events based on organiser or keyword as compared to asking the ecosystem to self-nominate. Both approaches will form the strategy moving forward.
Here are some challenges we found when considering what events to include and exclude as entrepreneur events:
Criteria changes based on population. Meetup content will be more generalised in lower population regions. A region with a population of 60,0000 people may only have 2 or 3 meetups that support business activity, whereas a metro city will have dozens of meetups focused on specific aspects such as technology (blockchain, virtual reality), business functions (digital marketing, exporting), or community segments (youth, female, nationality).
Dating sites are not included, but then there are meetups specific to single entrepreneurs.
Meetups about food such as cooking are not included, but then there are meetups about foodtech or agtech
Spirituality and meditation meetups are not included, but mental health is important for entrepreneurs and many hubs hold events for mindfulness and yoga
Religion meetups would not be included, but groups focused on rationality and the philosophy and ethics of artificial intelligence could be.
Events specific to gender or nationality are not included, but inclusiveness and diversity is important and there are meetups for Asian or LGBT entrepreneurs
Events for arts and crafts are not included, but the design and creativity process is essential and hackerspaces and makerspaces do not need an entrepreneur outcome
Traditional investment groups such as property development or real estate are not included, but those same participants will cross over to investing in tech and share similar principles.
General leadership, human resource professionals, and recruitment meetups may not be included, but leadership is essential for entrepreneurs and talent recruitment is essential.
Photography events would not be considered, but other content creation such as podcasting or videography could be
Traditional toastmasters events might not be included, but pitch events and pitch training would be
These are just notes we took as we cleaned, and I expect there are others.
Analysis: What happened for Australia GEW 2019
A few considerations when looking at the map of events during GEW:
This is indicative, not inclusive. This is more a map of some entrepreneur-related events in Meetup and EventBrite than a list of all events in Australia. Still, it does provide a representative sample of events registered in popular events platforms.
Having GEW at the end of November does not align with each region's schedule. Northern Territory ran dozens of events for their October business month in October, which leaves November quiet for the state. By contrast, South Australia and Sydney both ran annual conferences during GEW – SouthStart and StartCon. Also, universities and schools wrap up early November or are in exams, often excluding young people from participating and those organisations from coordinating.
Comparison week on week is not as relevant. The warm weather and seasonal cycle of regional communities also impacts events, as does university and high school cycles. The importance is not how GEW aligns with other weeks of the year, but how we are going year on year.
Not everyone uses EventBrite or Meetup. The platforms are popular enough to capture most activity, but some such as government hubs are required to use internal ticketing platforms, Facebook is quite popular for events, and Humanitix is growing in popularity.
This is an experiment. The aim is to get to a point where we know how many entrepreneur-related events are running at any given time, so we know if a national campaign makes a difference.
So with all that in mind, how did we go in Australia for GEW 2019?
Over 520 entrepreneur-related events in Australia are listed on Meetup and EventBrite from 18 to 24 November 2019. Even comparison to next year will be a challenge as the number increases as more hubs are linked to the platforms, more platforms are added, and the data collection process is refined. We conservatively expect the real number to be closer to 30% higher than what was captured through this process.
Some events focus on technology. Over 20 events referenced bitcoin, crypto, or blockchain, two events referenced virtual reality, another two events focused on drones, and 13 events specifically referenced artificial intelligence.
Other events focus on specific aspects of community, such as 40 events run in the week focusing on women or females. Other groups to explore in the future include indigenous or youth.
We can also explore types of events. There were at least three hackathons and two conferences, plus a number of technical meetups, panel discussions, workshops, and more.
Gaps and what's next
Some thoughts on gaps and what's next:
Improve data capture: We have an initial indication of event numbers, but there is more work to be done including integrating with more platforms (Facebook, etc.) and engaging event organisers and community managers before 2020 for increased self-reporting.
Improve presentation and usefulness: The calendar is functional but can be improved. The mobile version is a bit embarrassing, which is in line with what they say should be the case for the first release. A dashboard will help with an ongoing assessment of events in regions. The audience is not so much people looking for local events. The event platforms do that well. This is designed as a cross-platform planning tool for regions to help schedule events.
Network measurement: Number and type of events is interesting, but we can also explore how we might assess the network value. This includes integrating with social media channels and other data sources.
Integration and collaboration: There are emerging ecosystem platforms in market, and a broader strategy of data integration happening in Australia. No single system will manage everything, but we can integrate to explore different data sets and an existing local platform may develop a national approach.
Predictive analytics: Our aim is to have the solution and improve the ecosystem. We need to move from reporting on what happened to predicting what will result in success. We are keen to explore further questions such as: Does the number of events correlate to local business quality? Does the type of events match the current region's business maturity or industry profile? Are events a predictor of entrepreneur outcomes? We can only answer these questions through data-driven collaboration.
Our aim with GEN Australia is to work with a global network and national leaders to improve support for entrepreneurs in Australia. Providing better support for events and a focus on Global Entrepreneurship Week is part of this remit.
Feedback and collaboration is welcome. Please comment below or connect with me if you want to be a part of the journey.