Change is a constant at the moment. There is a significant need for reliable, accurate, and concise information. There is also a need to learn from others as well as share and normalise feelings so we know we are not alone. This is the driver behind research being conducted for leaders in the Australian innovation system.
We conducted a survey of innovation leaders as part of the application process for a recent webinar, asking questions about their best tips, tools, and resources from the past week, and their biggest need in the next week. This followed a survey and report the week before about challenges and opportunities from COVID-19 impacts.
The survey sample is based on the type of person who would register for a webinar designed for leaders in the innovation ecosystem. We also put the survey out to the 300+ leaders in the Australian innovation leaders Slack community.
We provide a brief analysis and raw data below so others may learn and benefit as broadly as possible. Feedback and further comments are welcome.
Q1. What is the most helpful tip you have heard or given to others in the past week?
The first question asked about tips heard or given in the past week. Responses were grouped into five broad categories. Tips given or heard were predominantly and expectedly focused on personal and business. Other categories included culture and community, data, and how to respond.
Business and business models
The COVID-19 impacts has transformed nearly every business model. Many of the tips focused on how to support the transition from a business perspective.
Thinking deeply now about actions that can not only get you through the next 6 months but springboard into future growth. Now is the time to change your business model if ever there was one.
There's no need to simply stop work – many events, talks, information sharing sessions can take place virtually.
Spoke to some local cafes, ask how they were continuing with a take-way only service. Suggested to maybe look at a video ordering service (v's traditional shopping cart), start small with some select customers, leverage platforms like Youtube, Zoom, etc test and change as required.
Reverse the recycling process and look at demand for 3D printer materials and target recycling process accordingly
Connect online with your customers
Be vigilant and brutal in managing future cash flow
Personal health and mindset
Many people are looking for answers. Managing themselves through the process will be key to managing their business.
We're all in this together – let's at least try to make it fun for one another.
The new currency is good will
Strategy is changing hourly or daily, don't hold on to current perceptions.
Stay healthy. Prioritize your own wellness. Sleep well. Eat for nutrition and energy. Design and maintain a balanced schedule. Keep an eye on your emotional and mental health. Even in the midst of extreme need, those of us who love to help others must remember not to overextend ourselves and end up burning out, exhausted.
Stay connected and explore a broad range of comment
Stay calm and look for opportunities
Slow and steady  pace yourself!
Right now, stay safe and healthy.
Remain positive, virtually connected and vigilant!
Not to be afraid to try new things everyone is experiencing lots of firsts at the minute.
Make the most of the situation, channel the skills of your entrepreneurial self, take care of others, give
Keep moving forward, as this too shall pass.
Keep motivated
Keep calm and connected, prioritise self-care and know we're all in this together
It's not business as usual. It's a business in unusual circumstances, but we have to get on with it and do it
If you want to go fast, go alone. If you want to go far, go together – Robin Jones Gunn
Hunker down, but also use this time to plan for when things thaw
How you are communicating with yourself, what you choose to focus on, if you look for something you are going to find it (if you look for what's wrong you'll find it) framing it is important, and managing what you consume/ listen to/ read.
Go for a walk… but even now that seems impossible to do
Find the opportunity
Feeling and being less productive is OK at this time in history
Don't watch/listen to too much media – get the facts and then move on.
Don't try to do it all like last week… take your time, manage your wellbeing
Don't panic
Determine what is within your control, remained focussed and work on those items.
Be the change you want to see in the world – Ghandi
Be present with your children
Culture and community
There was an acknowledgement of the need to stay connected in community through the social distancing process.
'Physical Distancing' not 'social distancing' – we need to sustain social connections more than ever!
Data
Data will be critical moving forward. Being able to point people to the right information will be essential.
The gif on the spread of of the virus which compares an exponential spread with one that has been intercepted by preventative actions.
How to respond
We are in uncharted territory, and we need to distinguish expert advice from opinion on how to respond.
Take your children out of school
Now is not the time to sell stuff.
Move to zero face-to-face interactions.
I have seen people having a go at new things.
Go to step 10 as I've done all the turn off – turn on checks
go online, keep your distance.
Act fast and deliver a clear message
Q2. What is the most beneficial tool or resource you have used this week?
The second question asked about the most beneficial tool or resource used in the past week. While not comprehensive, the results provide an indication of the types of solutions people are finding and that will soon become standard as social distancing continues.
Communication
Social distancing has brought digital and alternative communication tools to the forefront. Zoom was by far the most common tool. Other specific platforms mentioned include FaceTime, Facebook Live streaming, and Cisco's Webex. These are in addition to general recommendations for phone, webinars, and teleconferencing software.
Community and collaboration
Teams and businesses operations are having to increase usage of digital tools for community and collaboration. Unlike Zoom for communication, globalisation has led to the development of a greater number of platforms over the past decade. Some examples mentioned include:
Education perfect
Trello
GroupMap
TeamRetro
Microsoft teams
Jira
Loomly
Blackboard Collaborate
Basecamp
Information
Resources relating to general information include Twitter, the internet overall, and the John Hopkins COVID map.
Automation / security
Social distancing will require new approaches to physical contact and use of space. Kisi was one example provided.
Education
There is a need to rapidly build capability in new forms of thinking. The Leading through Industry Shifts course on ST Academy was one example provided.
Personal
Resources to support personal development included online yoga and different mindset frameworks.
Q3. What is your biggest need for the next week?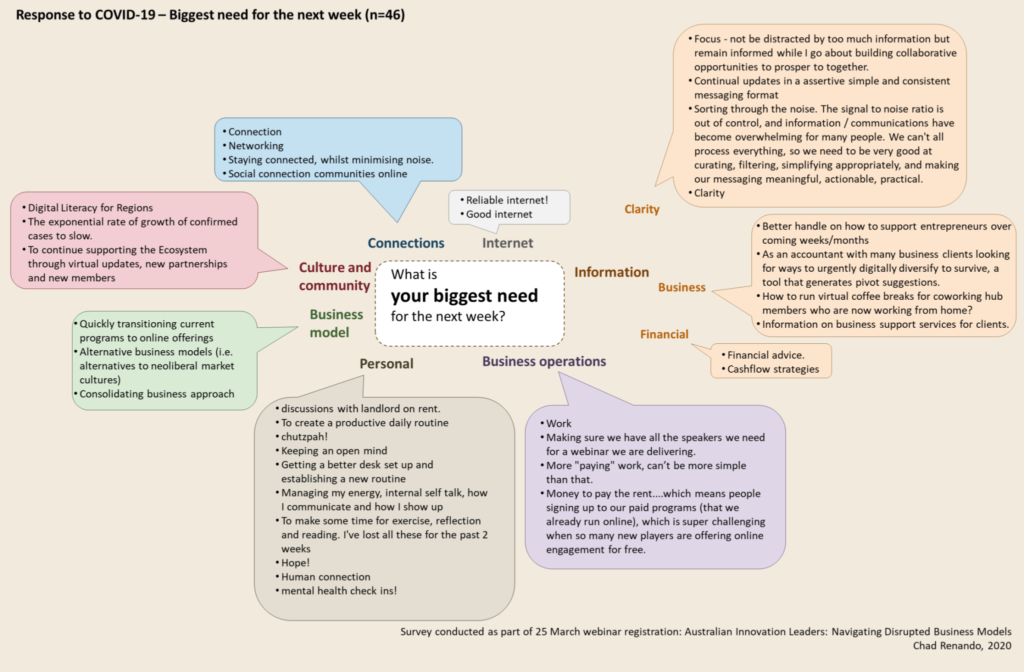 Respondents were asked about their biggest need in the next week. Responses were grouped into seven categories: Personal, Business operations, Business model, Culture and community, Connections, Internet, and Information.
Information
The COVID-19 impacts mean that everyone is experiencing a new way of operating. The volume of information has significantly increased making it difficult to find what information is relevant, while the need for information has dramatically increased and the time available to business owners to access that information has decreased as they enter survival mode.
These factors likely contributed to responses focused on information:
Information – Financial
Financial advice.
Cashflow strategies
Information – Business
Better handle on how to support entrepreneurs over coming weeks/months
As an accountant with many business clients looking for ways to urgently digitally diversify to survive, a tool that generates pivot suggestions.
How to stay ahead
How to run virtual coffee breaks for coworking hub members who are now working from home?
Understanding how to support entrepreneurs and new enterprises in these challenging times.
Information on business support services for clients.
education about how to make engaging online content
Productivity tools for online
Information – Clarity
Focus – not be distracted by too much information but remain informed while I go about building collaborative opportunities to prosper to together.
Continual updates in a assertive simple and consistent messaging format
Sorting through the noise. The signal to noise ratio is out of control, and information / communications have become overwhelming for many people. We can't all process everything, so we need to be very good at curating, filtering, simplifying appropriately, and making our messaging meaningful, actionable, practical.
information
staying focused on 'imperatives' (there is a lot to be distracted by)
Clarity
Cutting through the noise online
Connections
Without physical meetings, people are searching for ways to maintain networks and connections.
Connection
Networking
Staying connected, whilst minimising noise.
Social connection communities online
Internet
The reliance on digital meetings and business operation places emphasis on internet infrastructure.
Reliable internet!
Good internet
Culture and Community
Culture and community include needs in the broader community, that may not be in a person's immediate control but are a concern and influence their work.
Digital Literacy for Regions
The exponential rate of growth of confirmed cases to slow.
To continue supporting the Ecosystem through virtual updates, new partnerships and new members
Business model
Changing business models have been a common theme for needs and opportunities.
Quickly transitioning current programs to online offerings
Alternative business models (i.e. alternatives to neoliberal market cultures)
Consolidating business approach
Business operations
A big need identified is keeping the lights on during the impacts.
Work
Making sure we have all the speakers we need for a webinar we are delivering.
More "paying" work, can't be more simple than that.
Money to pay the rent….which means people signing up to our paid programs (that we already run online), which is super challenging when so many new players are offering online engagement for free.
To find time to pay attention to this group when its imperative to earn $ in the gig economy while i have the opportunity
Retentions.Keep the community engaged via online
Planning for the next 3-6 months
Next steps
The aim with the regular surveys and reports is to provide a source of information that may add value to innovation leaders navigating a new landscape. It may also help to normalise feelings, letting leaders know there are others who feel the same way and share lessons for more rapid learning.
Thank you for being a part of the community. Feedback and further comments are welcome. To stay connected, feel free to join the community leaders Slack channel by requesting an invite in a DM or in the comments below.